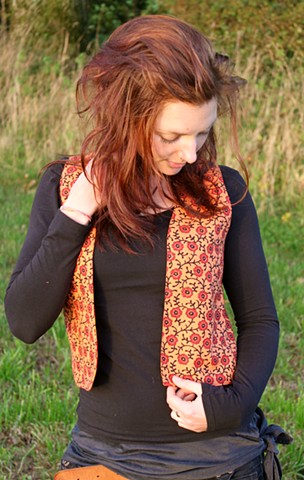 Welcome to FeverLeaf!
Colourful handmade clothing, costume and jewellery...reclaimed fabrics and re-loved garments…commissions, workshops…and colourful raggle-taggle adventures!
To view and purchase FeverLeaf clothing and jewellery, please visit:
and to keep up to date with all my latest creations and FeverLeaf adventures visit:
www.facebook.com/feverleafboutique



You can also contact me on freya.feverleaf@gmail.com to request custom orders or commissions, or to talk about any items you have seen at my studio shop in Frome, that are not yet on the Etsy site.
Or pop into the studio shop at the Black Swan Arts Centre in Frome, and take a look at my latest colourful creations!
Mission Statement
'There is no beauty in the finest cloth if it makes hunger and unhappiness'
Mahatma Ghandi


To actively source recycled, reclaimed, second-hand and 'waste' fabrics wherever possible.
Where fabrics are bought new, to seek out those which are organic and/or fair-trade (primarily cotton and silk).
To experiment with fabrics which are naturally less damaging to the environment such as hemp and tencel.
To uphold a commitment to using no fibres which come from a petrochemical source, whose chief impacts on the environment stem from the political, social, ecological and pollution effects of the petrochemical industry and carbon chemistry.
To support fabric wholesalers and retailers who are committed to ethical and environmental policies in the way they run their business.
To support small and grassroots businesses in order to challenge the power structures that give multi-national corporations the ability to undermine their livelihoods.
To source feathers from organically-fed, free-range chickens, which would otherwise go to waste when the birds are culled for meat, and to source other craft items such as this from equally ethical and environmental sources.
To provide unique, good quality products at fair prices, whilst promoting environmentally responsible lifestyles and raising awareness of environmental issues and alternatives.
To uphold these core values and missions as the company grows from its early roots and branches out to new producers and partners in the future.